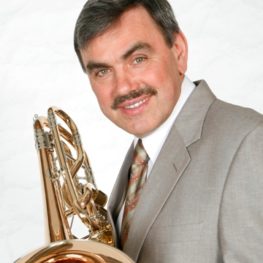 Zdzisław Stolarczyk

For his achievements in arts, science and teaching, he was awarded a series of prizes and distinctions.
Zdzisław Stolarczyk is a graduate of the Karol Szymanowski Academy of Music in Katowice and completed prof. Roman Siwek's  trombone course.
Since 1979, he has worked as a bass trombonist in the Polish National Radio Symphony in Katowice while cooperating with multiple domestic and foreign orchestras and bands such as: National Philharmonic, Sinfonia Varsovia, Sinfonietta Cracovia, "Capellae Cracoviensis" and the Hilversum Radio Chamber Orchestra (Netherlands).
The achievements of this orchestra musician include over 1500 performed concerts, 115 foreign tours, 62 television shows, over 11000 minutes of archive recordings and 45 CDs. Besides his regular job as an orchestra musician, he performs as a solo artist, chamber orchestra member and a lecturer at international and national symposiums, scientific conferences and seminars.
He is a noted and appreciated teacher who started his teaching carrier in 1986 in the 1st and 2nd level State School of Music in Bielsko-Biała and continued teaching at the Cracow Academy of Music. Since 2015 he has been a lecturer at the Fryderyk Chopin University of Music in Warsaw. His scientific work was acknowledged in 2017 by the President of Poland who has awarded him the title of professor of music.
His students and pupils took many of the highest honours in international and national competitions.
His graduates work in the top foreign and national orchestras and bands.
He is an advisor of the Centrum Edukacji Artysycznej (Centre for Education in Arts) in Warsaw and an expert of the Ministry of National Education and Sports in committees for professional promotions of teachers. He is also regularly appointed to juries of international and national competitions.
In 2005, he was the co-founder and, for two more years, the president of the Polish Association of Trombone and Tuba players.
He is the co-organizer of ten editions of the Interpretative Brasswind Instruments Competition Brno (Czech Republic).
For his achievements in arts, science and teaching, he was awarded a series of prizes and distinctions.
Courses
| ID | Course Name | Duration | Start Date |
| --- | --- | --- | --- |
| | Trombone | PSM Kalisz | 19 August 2019 |