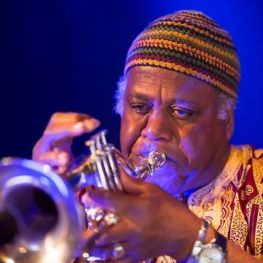 Charli Green

Except playing the trumpet and didactics, Charles is also a composer and arranger.
Urodzony w Memphis, Tennessee (USA) Charles Green rozpoczął swą muzyczną edukację w Średniej szkole muzycznej. Podczas służby wojskowej dołączył do orkiestry reprezentacyjnej wojsk lotniczych (US – Airforce Band), by po kilku latach przenieść się do Madrytu i kontynuować studia muzyczne w zakresie gry na trąbce.
W 1970 roku przeniósł się do Holandii i studiował w konserwatorium w Maastricht, a następnie objął klasę trąbki w konserwatorium w Amsterdamie i prowadził przez wiele lat akademicki big band.
Poza grą na trąbce i dydaktyką, Charles jest również kompozytorem i aranżerem. Prowadzony przez niego od 1990 roku Studentproof bigband stał się jednym z profesjonalnych holenderskich zespołów tego typu.
Courses
| ID | Course Name | Duration | Start Date |
| --- | --- | --- | --- |
| | Trumpet | PSM Kalisz | 19 August 2019 |
| | Jazz trumpet | PSM Kalisz | 19 August 2019 |